Southern Oregon
Subscribe!

Be notified of news
& updates by email
EDUCATION SERVICE DISTRICT
signup | manage settings


SOESD / Special Education / Autism / News

Regional Autism Training Opportunities: SCERTS

Southern Oregon ESD, in conjunction with Emily Rubin, presents a regional training surrounding the SCERTS Assessment Process:

The SCERTS® Model is a research-based educational approach and multidisciplinary framework that directly addresses the core challenges faced by children and persons with ASD and related disabilities, and their families. SCERTS® focuses on building competence in Social Communication, Emotional Regulation and Transactional Support as the highest priorities that must be addressed in any program, and is applicable for individuals with a wide range of abilities and ages across home, school and community settings.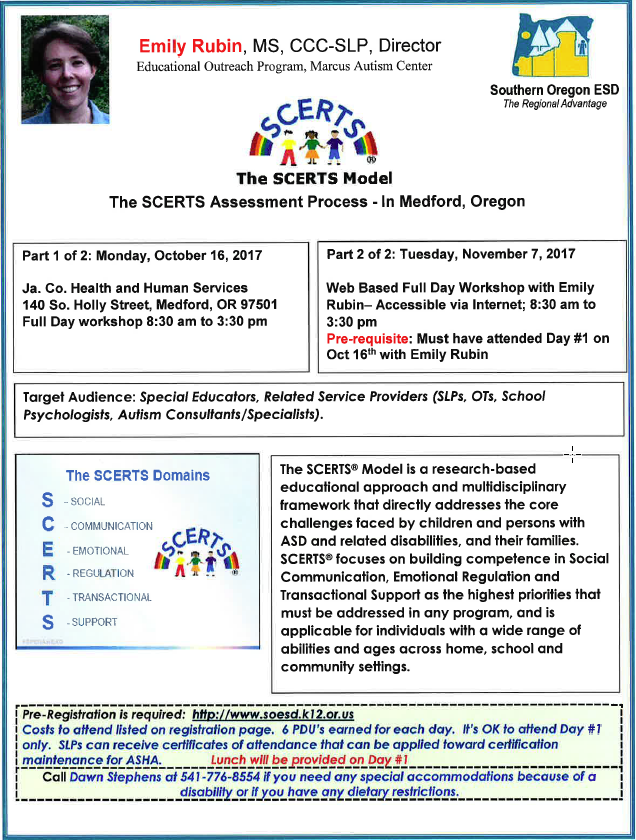 Regional Autism Training Opportunities: SCERTS










101 North Grape Street
Medford, OR 97501
Phone: 776.8590 or 800.636.7450
Fax: 541.779.2018
Email Us
Hours: 7:30 - 4:30 Mon - Fri