SOESD / Learning Matters / Newsletter Archive / November 2007 / SOESD Attendance Support Team

SOESD Attendance Support Team

School Improvement Team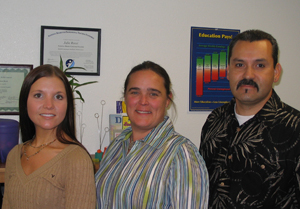 Attendance Support Team: Jessica, Betsy, and Raul


"Students don't achieve academically if they don't go to school."
Raul Lopez has been a familiar face at the SOESD since 1991, having worked in the ESL, Voc. Ed./Special Ed., and CTE departments. Some folks may not know that he is ex-U.S. Army, with years of both federal and local police experience. Recently Raul has had the opportunity to put all his training and experience together as one of the ESD's "attendance officers."

This year, the attendance team has added two new faces: Jessica Kellum and Betsy Mathas. Jessica brings a degree in criminal justice from SOU with a minor in Spanish. She has worked with at-risk kids for many years in various setting including a non-profit organization in local schools, the juvenile detention center, and the juvenile probation department. Betsy, who joined the crew this month, has also worked with young people in a wide variety of situations, most recently volunteering at Butte Falls Schools.

The SOESD chose to use part of its "school improvement fund" to create the attendance team, dedicating about $100,000 to solving attendance issues. Lopez states that the team's focus "is on the students' futures and success." He adds, "We focus on attendance, academic achievement, home issues, social services support if needed, and support for the family structure." Their jobs require time outside the regular work day to meet with and support students and their parents or guardians.
The team has found that students miss school for a variety of reasons, but drop out when it becomes apparent to them that they won't have enough credit to graduate with their peers. Jessica, Betsy, and Raul have high expectations of students: that they attend regularly and do their school work. But they also help schools and the community to create a scaffold of support for each student to be successful in school, which can include making sure the family is adequately fed and has decent clothes to wear, or even taking a group of students to the Oregon coast on their first camping trip.
In Jackson County, Raul leads the team and works full time in the Medford School District. Jessica works full time with Ashland, Phoenix-Talent, Central Point and Rogue River School Districts, while Betsy, a Butte Falls resident, will work one day a week in Butte Falls and Prospect School Districts. Schools in Klamath and Josephine Counties have chosen "flow through" funds that they can earmark to hire attendance officers.
For more information on SOESD's attendance initiative, call Raul Lopez at (541) 776-6771.