SOESD / Learning Matters / Newsletter Archive / November 2007 / Your Treasure Chest for Success Workshop

Your Treasure Chest for Success Workshop

Pam Ruddock



Klamath Community College Team Students in Free Enterprise (SIFE) presented its first annual "Your Treasure Chest for Success Workshop" for the Klamath Basin's High School business clubs (FBLA and DECA) as well as students interested in business, on September 21, 2007.

The goal of the event was to provide students with information and skills that are helpful to them for projects, competitions, and that they need to know in today's business community.

Schools represented at this year's event were, Bonanza, Gilchrist, Henley, Klamath Union, Lost River, and Mazama High Schools.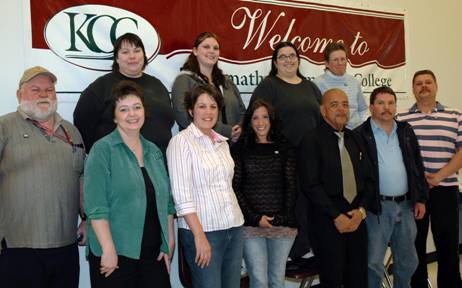 Klamath Community College Team SIFE

Welcoming speaker was the new Interim President at Klamath Community College, Gerald Hamilton and guest keynote speaker for this year's event was Wayne Amos, teacher at Klamath Union High School.
Various topics were website design, marketing, brand identification, public speaking, management related topics from business ownership to marketing strategies, forensic accounting and customer service. Speakers for these topics included Jim Chadderdon from Jeld-Wen, Sam Dunlap from Brockway Agency, KCC Faculty members Kathy Hewitt and Ronda Wery, Meredith Hoffman from South Valley Wealth Management, Patti McMann, a Freelance Writer, Rob Quackenbush from Quackenbush Coffee, Reba VanAcker from Epicenter, and David Wehr, Principal at Triad Christian School and a well-known actor in Klamath Falls.
Vendors were present from Oregon Employment Department, Small Business Development Center, and Pacific Crest Federal Credit Union.

This year's event was co-sponsored by the SBDC, FBLA, DECA, KCC and KCC Team SIFE with assistance from the Klamath Basin SOESD office CTE Specialist, Ann Strunk, and Administrative Assistant, Pamela Ruddock.