SOESD / Learning Matters / Newsletter Archive / June 2008 / SOESD Prepares Students for Jobs After Graduation

SOESD Prepares Students for Jobs After Graduation



By Gwyn Lema, Vocational Program Specialist
Southern Oregon Education Service District

Southern Oregon Educational Service District (SOESD) and Living Opportunities, Inc. have developed a transition program for students with developmental disabilities. The program is to provide a seamless transition from school to adult independence. Also involved in the program are Vocational Rehabilitation Division (VRD), Creative Supports Inc. (CSI) and Jackson County Developmental Disabilities Services (JCDDS).

The goal of the program is to provide the student with services that are person-centered and focused. The purpose is to obtain a job that matches the individualís preferences and skills. The process begins in the spring before the studentís last year in transitional school services. SOESD meets with students and their families to discuss options for services after graduation. For the students and families who desire community-based employment, SOESD refers them to Living Opportunities, which works alongside VRD, CSI and JCDDS. Living Opportunities, Inc. is a not-for-profit agency that provides residential services and customized supported employment to individuals with developmental disabilities. Their employment service consists of a community-based job assessment, job development, on-the-job training and support.

In the fall of the students' last year in transitional services an orientation is scheduled by SOESD at Living Opportunities for the students and families. Representatives from VRD, CSI and JCDDS also attend this orientation to introduce and explain the services each will provide.

Each student first participates in the job assessment. The focus of the assessment is to identify the studentís interests, preferences, compatible work environment, skills and supports needs. The process starts with gathering information from the student, SOESD staff and family members. An interview is scheduled with the student to view a presentation of existing job sites within Living Opportunities to try out. The student selects 5-6 job sites to experience for 4-12 hours per site. The job assessments are scheduled with the students, SOESD staff and families. The assessments normally take two months to complete.

Once the assessment is completed, a meeting is set up with VRD to create an individualized plan for employment based on the studentís assessment profile. The assessment results define the individualís skills and preferences and what jobs would be a good match. Living Opportunities performs the job development service by locating a job in the community that matches the assessment profile. The student continues attending school until graduation or employment is obtained. Once employment is obtained, the Living Opportunities staff will provide the initial on-the-job training and on-going support for the student to maintain the job placement.

The following individuals are some examples of our successful partnerships.

Jesus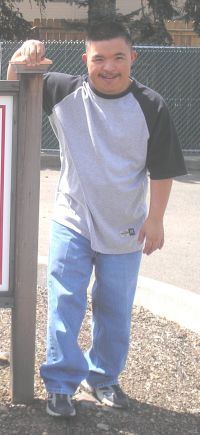 Jesus went through the assessment process with Living Opportunities in 2005. Jesus understands and speaks English, Spanish and Sign Language minimally. He did not have a clear idea of what he wanted to do during the process but was a very willing participant and hard worker. Jesus tried out many different job sites during the assessment. It was determined during the assessment try-outs that Jesus took pride in cleanliness and enjoyed janitorial work. A job opportunity working for Eagle Point Head Start cleaning their classroom became available. Jesus tried out the job and accepted. Due to his limited communication, visual systems were put in place for learning and maintaining the job. He is now in his second year working for Head Start and he loves it. The employees there say they donít know what they would do without Jesus; he is a great help. Jesus works four days a week during the school year with summers off. Due to the fact Jesus lives in Eagle Point near the school, staff there provide transportation to and from the site for Jesus, making him a fully integrated part of the team.
Chris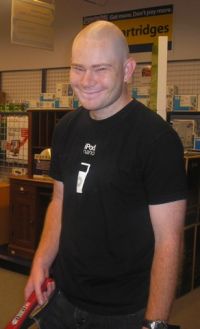 Chris began our services in spring 2005 with our assessment process. Chris graduated from the Talent Transition program in June 2005. When Chris began our services he was considered a behavior challenge. Chris had a history of violent behaviors, an impulse control disorder, conduct disorder and anxiety. The assumption was he would need 1:1 close supervision while in the community. During our assessment process we learned a great deal about Chris and what he wanted to do for work. Chris showed himself to be a likable, social and hard-working guy. Chris enjoys the outdoors and helping his dad on the farm. Chris also enjoys sports. When the assessment was complete, we began job development for Chris, focusing on the areas we found of interest to him. In November of the same year we located a job for Chris at a local petting zoo/farm. Chris was responsible for the morning feeding and watering of all the animals. He also cleaned the animalís pens. Chris worked four hours a day and loved his job. Chris was able to do his job independently after initial training and job coaches faded out, leaving the natural supports of other farm staff to help Chris with any needs. Chris proved to be a hard worker and showed no signs of behavior issues at work. Chris worked at the farm for a year at which time he was laid off due to cutbacks. At this time we offered Chris a position temporarily at a computer store doing janitorial until we could locate him another job. Chris agreed because he wanted to keep getting a paycheck. Shortly after starting work there Chris developed friendships with a number of employees. At that time he indicted not wanting to leave the job and has over the past year and half gone to sporting events with his friends there. The office manager at the business has also taught Chris to use a computer to purchase sports memorabilia at online auctions. Recently Chris accepted another position at a grocery store doing light cleaning and groundskeeping. He works with a number of friends he went to school with. Chris to date has never had a behavior incident during employment hours.
Angela
Angela went through the assessment process in 2007. Angela already had a good idea of what she wanted to do for employment. She wanted to work in either packaging or in an office. We tried out a variety of sites and she did well at all tasks. We were approached by one of the job sites Angela had been at through her work experience with the ESD. They were interested in hiring her to do packaging. Angela was excited. A Living Opportunities Job Coach came in and set up a work area for Angela so she could be as independent as possible. We used the information from her assessment profile to structure the environment to fit her needs. After the initial job training the Job Coach faded out and now Angela is independent with natural support from co-workers. She works six hours a week and is almost to her one-year anniversary at Good Life.
Wesley
We first met Wesley through the ESD in 2006. The school year had already ended for Wesley and he was anxious to have something to do. We met with Wesley and his foster provider at home to get acquainted. Wesley is a young man with Autism and uses a Franklin Speller to communicate. We began our assessment process with a slide show of different jobs available to try out. Wesley chose some places he would like to try and we made a schedule for the month. We visited seven job sites in all. These included tasks like office work, assembly, collating, packaging and janitorial. Wesley showed us from the beginning that he has some routines that cannot be changed. Wesley has a fascination with numbers and carries calculators with him. When at job sites Wesley wanted to have the calculators near him. Wesley had more difficulty in places where there was nowhere for his calculator to sit. Wesley also showed us through the assessment process that he likes and needs routine, and prefers repetitive tasks. We found Wesley will respond to verbal direction but does better with simple written instructions. Wesley did show behavior issues such as pinching or grabbing when frustrated. When the assessment process was over, we recommended a placement in light assembly or collating. Wesley proved he is a great worker and is so motivated to be finished he has a good production level. Within weeks of the assessment an opening became available at one of the sites Wesley liked during the assessment. He began working there with great success five days a week. At this site Wesley has a place for his calculator and enjoys the predictability. In November we found Wesley another job doing shredding at an office two days a week. Wesley likes to work and has proven to be an excellent employee.
Danny
We met Danny while he was in the ESD transition program in Eagle Point. We began our Assessment process by observing Danny at school and during the slide show presentation of possible job sites. Danny chose lots of places he would like to try. Danny is a very social guy and likes to talk about TV shows and the weather. We visited a number of sites and leaned that Danny is good at collating, light assembly and packaging. Danny is meticulous and makes sure he is doing the job right. Danny gained a slot in our employment services through DD services when school ended. We began Job Development when the Assessment was complete in the hopes of finding Danny a perfect job. During this time Danny became a substitute at a number of job sites when people were absent. Danny seemed to enjoy visiting different places and meeting new people. We located a job doing packaging in a small group setting at a large manufacturing business in Ashland. This was perfect for Danny, it gave him the opportunity to be around people and put his accuracy to work. Danny worked here for a number of months until the business had to lay off many of its employees. At this point Danny went back to being a substitute for Living Opportunities job sites. Danny then procured a job at one of the places he had substituted at doing collating in a small office. Danny had always enjoyed working there and was happy to accept the position three days a week. We are continuing the Job Development process to locate Danny another perfect job as he would like to get more hours.