SOESD / Learning Matters / Newsletter Archive / November 2008 / Juli DiChiro Named Oregon Superintendent of the Year

Juli DiChiro Named Oregon Superintendent of the Year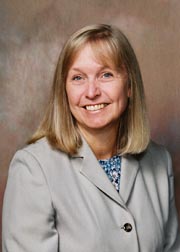 Juli DiChiro, Superintendent, Ashland Schools

Juli DiChiro, Ashland School District Superintendent, was recently selected as the Oregon Superintendent of the Year. It is very exciting to have one of our local superintendents recognized as Oregon's best. Juli led Ashland Schools through some very difficult times such as declining enrollment, decreased funding and the closure of two elementary schools. Yet through all this Ashland has passed youth levies to support curricular and co-curricular activities and a construction bond to remodel and refurbish Ashland Schools.
Steve Iverson (Grants Pass School District Superintendent) and I discussed how much Juliís leadership was important to the collaborative atmosphere and collective knowledge of our region. As a result, we decided to jointly nominate Juli for Oregon Superintendent of the Year.
Below are some quotes from Juliís nomination letters:
Juli DiChiroís career has been focused on preparing ALL students for success. Juli carries this torch every day in every decision.
Juli is constantly the catalyst in our Superintendentís leadership workshops to stretch our creativity, inspire professional growth and to encourage focus on student achievement.
The Ashland community has high expectations for their community leaders. Juli has the respect and admiration of the district and community. She represents the districts and serves as an advocate for outstanding schools. Ashland passed a construction bond to remodel and update their schools. In addition to a construction bond, Juli has been instrumental in passage of several youth levies to support and expand opportunities for students. She has managed decreasing resources each year in the district while adding to the districtís financial health and educational programs. Under Juliís tenure Ashland has initiated many exemplary programs and encouraged a culture of professional development.
As an educational leader, Juli is an advocate for all students and all school districts as you often hear her and see her actively engage with legislators and professional organizations pushing for the strategies and principles that support effective schools and appropriate use of resources.
On behalf of every educator in Southern Oregon, congratulations to Oregonís Superintendent of the Year! Juli now becomes a candidate for National Superintendent of the Year.