SOESD / Learning Matters / Newsletter Archive / April 2009 / Students Take Video Challenge

Students Take Video Challenge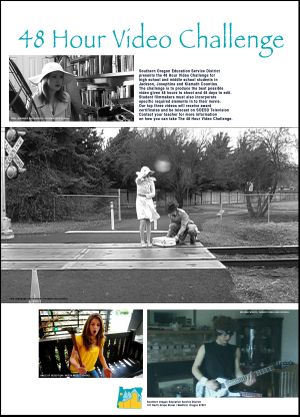 48 Hour Video Challenge Poster

Thirty teams of student movie producers have begun rolling on the 2nd Annual 48 Hour Video Challenge. Billed as "the unofficial Southern Oregon High School Movie Making Championship" the contest--coordinated by the SOESD Creative Services department--requires teams of Middle School and High School students to shoot an eight to thirty-minute movie during a 48-hour period.
The students are then given 48 days in which to edit their movie and submit it to the ESD. Their movies are then mailed to industry professionals in Portland and Los Angeles who have graciously volunteered to review and "grade" each movie.
The student producers of the three movies with the highest scores are awarded framed award certificates. "The 48 hour challenge offers an exciting and unique opportunity for my students to explore and develop their videography skills," says Grants Pass High School Video Production teacher Christopher Rossetta. His students are working on several videos for the competition again this year.
Before production begins each team is given a list of elements that must be incorporated into their production. The list includes lines of dialogue, props and characters and also gives the students the genre of their movie. New to this year's contest is separate divisions for Middle School and High School students. Students in Cindy Gaines' yearbook class at Rogue River Middle School like the idea of competing against other middle schools and are producing videos for the 48-Hour Video Challenge this year.
Last year's top three videos were from Phoenix High School, Grants Pass High School and North Middle School. The highest score went to the PHS entry, a tongue-in-cheek film noir murder mystery titled Pink Lemonade and Murder. The movie included original music written and performed by Phoenix High School students.