Southern Oregon
Subscribe!

Be notified of news
& updates by email
EDUCATION SERVICE DISTRICT
signup | manage settings


SOESD / Special Education / Workshop - Michelle Wild

Workshop - Apps as Practical Solutions to Executive Function Issues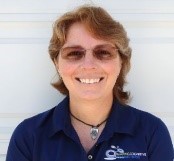 Apps presented at the workshop can be pre-purchased prior to the training at the App Store:
BEST Suite (3 apps in one) $9.99

PaceMyDay
ReachMyGoals
StrategiesMyLife (available in late March)

Notability $9.99
Inspiration Maps $9.99
Week Calendar $2.99 (iPhone); $3.99 (iPad)



Target Audience:

Individuals with executive function challenges; professionals and caretakers of children and young adults with all abilities and cognitive/executive function challenges.

Michelle Ranae Wild is the President/CEO of Brain Education Strategies and Technology (BEST) a non-profit the mission of which is to develop, research and disseminate the best practices for teaching strategies and technologies for the benefit of people with conditions that affect the brain. In addition, she is a professor at Coastline Community College and has taught in Coastline's Acquired Brain Injury Program for 30 years. She has authored Making Cognitive Connections workbooks on the use of Apple-based and Android-based smart devices as cognitive prosthetics. She provides a series of online app trainings currently being used by schools and VA hospitals. The app trainings are for both individuals with cognitive challenges and the professionals who work with them. She also established an app review site for those same groups, in hopes that the whole community can come together to help each other. In addition, she has released two apps developed specifically for the brain injury community: PaceMyDay and ReachMyGoals.



Workshop handouts will be posted at a later date.
This event is offered in collaboration with the Center on Brain Injury Research & Training (CBIRT).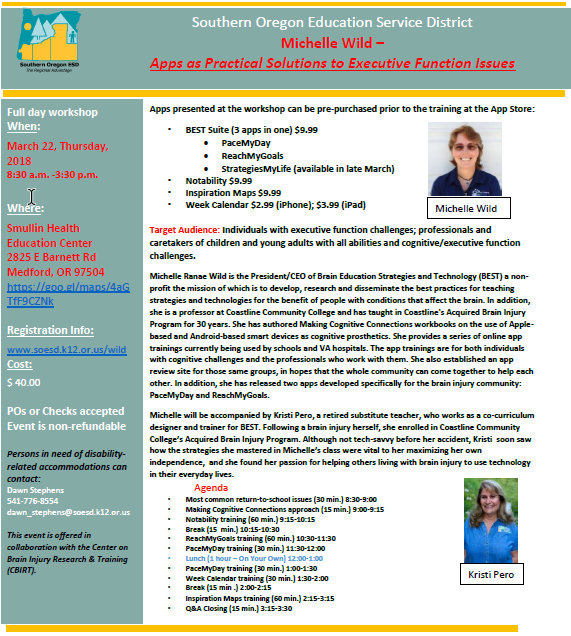 Special Education - Workshop - Michelle Wild