SOESD / Learning Matters / Newsletter Archive / September 2005 / Distance Learning

Distance Learning




Distance learning is a growing phenomenon. Educators in Southern Oregon are being encouraged to blend the best tools and best practices of both online and interactive video conferencing for course delivery. Students benefit by having access to both a live teacher and online tools. IVC (Interactive Video Conferencing) provides a structure and routine similar to a traditional classroom, while simultaneously providing students with high-tech communication skills for the 21st century. Additionally, IVC provides a connection for students beyond the four walls of their school. Sharing this virtual space with students from other communities can help students work through social issues such as prejudice and rivalry.

This fall, Southern Oregon ESD is piloting a blended IVC and online program for its distance learning Spanish I and II students. Blending IVC with online tools helps students succeed by providing access 24/7 to course materials and relevant online resources and by having opportunities to discuss course-related concepts and issues with their peers. Students in the pilot program, who attend four small, rural schools spread across the state, attend class via IVC four days a week. Additionally, Southern Oregon ESD is working to record and stream each day's IVC session as digital video, providing instruction or review for students who need it. These streamed videos, along with handouts and other course materials such as resource links and discussion boards, are available on the class's online WebCT course shell, provided through a partnership with Rogue Community College. Spanish teacher Beckie Kantor, the first to pilot the blended version of coursework at SOESD, states, "Distance learning is an incredible opportunity for kids to take advantage of more intense study regardless of where they are. I just love it! I'm a cheerleader for this."

Students benefit from distance education by having access to courses that would otherwise be unavailable to them, and by learning to use technology and communication tools that help to develop skills for lifelong learning. Schools also benefit in a variety of ways. Small and rural schools who are struggling with NCLB and financial constraints to provide quality learning experiences for their students can use blends of IVC and online learning to share expert, highly-qualified teachers as well as other resources. According to Technology Purchasing Forecast, 2004-2005, published by educational-technology trend-watcher Quality Education Data Inc. in September 2004, a significantly larger percentage of districts surveyed plan to offer on-line courses for the 2004-05 school year (41 percent) compared to 2003-04 (31 percent).
<http://www.qeddata.com/MarketKno/ResearchReports/TechPurchaseForecast.aspx>

Klamath County Schools, whose five high schools are all on the same bell schedule, successfully deliver five IVC-based courses daily. Bonanza High School (Klamath County) teacher Rob Nieraeth, who has taught Geology through video conferencing for four years states "It has given me another avenue to learn different teaching techniques and to diversify my style in reaching students with different abilities. I was skeptical about teaching on IVC but I can do the same things as in the classroom and even more with the equipment."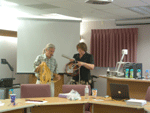 CyberFair '05 - Setting Up


Teaching from a distance requires new skills and pedagogy beyond those found in the average teacher's toolbox. For this reason, Southern Oregon ESD provided specialized teacher training through its summer CyberFair held in August. In this 3-day workshop, teachers from around the state learned and practiced new techniques and skills for teaching in a blended format, using both Interactive Video Conferencing and online tools provided through WebCT. Participants not only received hands-on training, but also became part of a community of learners who can now support each other regardless of the constraints of distance and time. Additional training sessions are scheduled throughout the 2005-2006 school year via a blended format of online and IVC sessions. Interested educators can sign up for the Teaching from a Distance or Course Writing for Distance Learning courses via SOESD's PD Networks system at http://www.soesd.k12.or.us/pdnetworks For more information, call Jay Matheson or Virginia Petitt at 541-776-6768.