SOESD / Learning Matters / Newsletter Archive / January 2006 / Expanding Your World

Expanding Your World



SOESD PTE Staff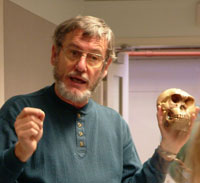 OIT Professor Lawrence Powers

Four members of the SOESD PTE Department staff attended the Expanding Your World career fair at Oregon Institute of Technology on December 13. Lonna Wood and Roberta Martinson, new in the Medford office this year, attended along with Kathy Ayers and Jene' Patrick of the Klamath Falls office to see what Expanding Your World is all about.
OIT began to sponsor the annual event several years ago to introduce girls and young women to careers in technical fields. At that time the United States government required "gender equity" activities of institutions receiving federal Carl D. Perkins Act funds. In the southern Oregon region it was soon recognized that boys also needed opportunities to learn about such careers, and OIT added a second day to the event just for boys.
About 450 girls from Klamath County and northern California attended the conference on December 13. The following day 520 boys were registered for the event.
Each student attended three half-hour sessions about occupations ranging from cartooning to law enforcement, TV studio production, archaeology, and surveying, presented by people who work in those fields. The sessions provoked enthusiastic responses from both students and presenters.
Wood and Martinson are also enthusiastic about the event and the opportunities it offers for students. They say the fair also helped them appreciate what career and technical education is all about and how it helps students explore the kinds of career opportunities that will be available to them as they reach adulthood.