SOESD / Learning Matters / Newsletter Archive / October 2006 / Migrant Parents

MIGRANT PARENTS RECOGNIZED AS STATEWIDE LEADERS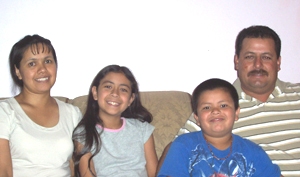 The Balbuena family (l-r) María, Osmaida, Ramón Jr

In spite of long work hours, a language barrier, and a relatively short time in the Rogue Valley, Ramón Balbuena is firmly committed to involvement in the educational lives of his children, and to developing educational leadership within local Latino parent communities.
Ramón is a founding member of Migrant Education's Parent Advisory Committee, an inter-district council of migrant parents, which meets monthly. The PAC provides a forum for parents to discuss educational concerns, and to provide input to inform and improve the programs and services Migrant Education provides to migrant students. The PAC meetings also provide parent leadership training, which will prepare parents to increase their involvement in school classrooms, on PTA's, Site Councils, and beyond.
Balbuena arrived in the Rogue Valley in 2000 from Ixtlán del Río, Nayarít, México, leaving his family, wife, and two small children, in the hope of finding work that could sustain them.
The family was reunited in 2001 when Ramón's wife María arrived with their 5-year-old daughter Osmaida, and 3-year-old son Ramón Jr.
"The economic situation in Mexico is very difficult," Balbuena said. "I started working with my father, who is a brick maker, when I was 6 or 7 years old but it's very hard work, and I knew I didn't want to do it all my life. My parents wanted me to study, but I wasn't able to finish. It's hard financially to study in Mexico, it's not like here where there is so much opportunity." He made it through middle school, and received a year of technical training in Mechanics.
He has worked in Medford at Naumes for 6 years, where for the first 3 years he pruned fruit trees in the orchards. He now operates a variety of heavy equipment, and attributes his advancement to an increased understanding of English.
Ramón and María, who both work full-time, have attended night English classes at Rogue Community College, and for three years have participated in Listo, an evening family literacy program provided through the collaboration of Migrant Education, Southern Oregon Head Start, and RCC.
María, also a member of the local PAC, cited a lack of English skills for parents and limited outreach by schools as barriers to parental participation. She recalled her own difficulties in accessing services for her younger child as a recent arrival.
"I knew there was kindergarten, but I wasn't informed about school for smaller children or Head Start. I didn't drive, and as soon as I got here, I just started working and my mom took care of (Ramón Jr.) for me. I would have liked to put him in preschool."
She expressed her desire for all schools to have procedures in place to regularly inform families about the kinds of programs and services available for kids, according to their individual needs.
"For example, if all schools could get parents together and say, 'for this child this service is available, and for that child, we have that service.' If schools don't inform parents, it becomes up to the child to ask for the information, and it shouldn't be their responsibility because they don't understand how."
Ramón worries about high Latino dropout rates, as students become disenfranchised, or leave to enter the workforce.
"If half of our Latino children are dropping out of school nationally, that's not good," he said. "I've been there. When I left school, I went to work and started making money, and I liked it. That's something I see here as well— the kids start making money, and their school attendance starts to drop. I don't like to see that. Of course it depends on the child, but I think that sometimes it's counterproductive for kids in school to start working, because they start thinking, 'I've got money, why should I study?' But they don't think that the jobs they have now, as kids aren't going to serve them well later on. They're thinking from moment to moment, and aren't thinking about their futures. We parents have got to keep our kids in school."
Last year, Mr. Balbuena was appointed by State Superintendent of Schools Susan Castillo to the Oregon State PAC. Ramón and María made the trip to Salem to meet with migrant parents from throughout the state, and to see the variety of educational possibilities that are being offered around the state to migrant children.
This is the first year that Southern Oregon has been represented at the State PAC, and the Balbuenas saw first-hand how underrepresented our region is in overall statewide leadership.
"People were surprised to see us there," Ramón noted. "They said, 'you came from all the way down there in Medford?'"
"[Northern Oregon Programs] have so many educational opportunities for kids, and there are many ways for parents to be involved. We saw one summer program in Albany that had many, many children from preschool all the way up to middle school. They did teacher exchanges with Mexico, had materials from Mexico, they had older children working with the younger children, and they're even planning to expand the program. We also got to attend the Oregon Migrant State Leadership Institute (OMSLI) graduation for the older kids. We'd like to see more of those kinds of programs down here."
Ramón added that he was impressed by the level of organization and involvement by parents and students, and with the number of Latino community members in key leadership roles. He says the experience inspired him to talk with his own children about their plans for the future.
"What I want for my children is that they study hard toward a career—that they do what we weren't able to do as kids. I don't want them to have to struggle the way we have."
María added, "As children we thought about going to work so that we could survive. Now we talk a lot with our kids about the kinds of careers they'd enjoy." Their daughter Osmaida, now a 6th grader at Talent Middle School talks about a number of possibilities, and right now, she'd like to be a lawyer. Ramón Jr., a 4th grader at Phoenix Elementary, enjoys inventing new things.
After a year of working with the PAC, the Balbuenas say that, despite the barriers migrant families experience, they believe that all parents can get involved and stay involved.
"Parents must get motivated and FIND the time to get involved," said María. "They can't just send their kids off to school and say 'have a good day', and expect other people to take care of their children's education. I recommend that they go to school and find out how their kids are doing in school and find out what their teachers think about their kids, and what programs are available so that they and their kids can get involved more and more."
Ramón asserted, "Don't be embarrassed or afraid. It's our responsibility as parents to give and to try harder to do something for our kids. We want to work hard and we want to be useful here, to be part of the larger community. I'm aware that too many of our Latino children are not making it through school. There is so much educational opportunity here, and we need to appreciate that and move forward together."