SOESD / School Improvement Services

School Improvement Services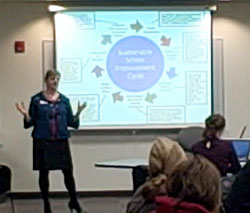 eCIP workshop participants see the big picture

SCHOOL IMPROVEMENT TEAM (SIT) is a dynamic group of educators providing support for schools by offering Migrant Education/English Language Learner (ELL) Services, Career and Technical Education, Attendance Services and some training opportunities related to curriculum, instruction and assessment. Due to current economic realities, some elements of SOESD's School Improvement Team services have been reduced. We look forward to building back a full array of services as economic conditions improve.
School Attendance Specialists work with local school districts to increase attendance rates by decreasing truancy. The ESD is also able to assist schools with Attendance Audit services to help them analyze their own attendance systems and create action plans for systematically improving attendance supports for students.

Career and Technical Education (CTE) has evolved from a limited number of vocational programs available at the turn of the 20th century into a broad system that encompasses a variety of challenging fields in diverse subject areas that are constantly evolving due to the changing global economy. The CTE department at Southern Oregon ESD works closely with local high schools, community colleges, and industry to help students progress through their career education and training as efficiently and effectively as possible. CTE Department services include Program of Study Approval, Instructor Appraisal and Certification, Professional Development, Federal Carl D. Perkins grant administration and technical assistance.
Migrant Ed/ELL/Indian Ed services include trainings, presentations and consultations at the building, district, and regional levels to school districts in Jackson, Josephine and Klamath counties. It also provides direct academic services to migrant-qualified students. These programs are designed to support students in meeting challenging academic Reading and Mathematics standards through literacy development.