SOESD / Special Education / Regional Programs for Low Incidence Disabilities

Regional Programs for Low Incidence Disabilities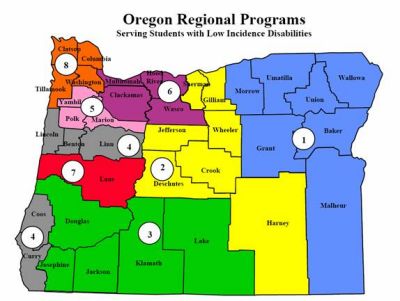 Southern Oregon Education Service District (SOESD) serves its constituent districts in two ways to provide special education services. In addition to its three-county ESD role, SOESD also acts as one of Oregon's 8 Regional Programs. As the Southern Oregon Region III Program, SOESD provides special education services to children from birth through age 21 with hearing impairments, vision impairments, deafblindness, autism spectrum disorders, severe orthopedic impairments, and traumatic brain injury in a five-county area (Jackson, Josephine, Klamath, Douglas, and Lake Counties).
The Regional Program was created in 1981 by the Oregon Legislation, with funding established to (1) provide equity for access to specialized service for students with low incidence disabilities, regardless of location within the state, (2) provide a mechanism to acquire and retain highly specialized staff, and (3) maximize taxpayer dollars by capitalizing on a regional economy of scale for providing services for low incidence disabilities.
Funding for the Regional Program consists of a combination of state and federal revenue sources and is formula-driven for each region on the basis of the special education census count (SECC). State funds for the program are General Funds appropriated by the legislature, while federal IDEA funds are a combination of both the state's and local school districts' shares of IDEA funds. Local school districts contribute the federal IDEA funds allocated for their low-incidence disability students, knowing that they will receive more value in services from the Regional Program than their IDEA funds could provide.
Students with low incidence disabilities have unique characteristics and learning needs, and staff have the highly technical and specialized skills to assure that these students receive the required support to access the general curriculum. The service delivery models for the respective disability groups have developed in different ways. In addition, the capacity of local school districts to augment the services provided directly through Regional Programs has grown, resulting in an array of services for regionally eligible students that may look different from region to region.
Services to these populations of students are tailored by each region but generally include evaluation and eligibility determination, specialized instruction and services (such as sign language instruction, audiology services, Braille/large print, orientation and mobility, and occupational/physical therapy), specialized equipment, and consultation and staff support and training. In addition, state supported projects help train Regional staff and provide additional support. Some of these projects include the Oregon Technology and Media Center, the Deafblind Project, Regional Program Autism Training Sites (RPATS), Central Clearinghouse for Orthopedic Impairments, and Oregon TBI Consulting and Resource Project.
Southern Oregon ESD employs many of the Regional staff directly but also provides funding through Regional subcontracts to Douglas ESD, Klamath County School District, Lake ESD, Asante Child Development Services (Jackson County EI/ECSE*), and Klamath Falls City School District (Klamath County EI/ECSE*) to hire staff. Other services to regionally eligible students are provided by SOESD and by school districts through the ESD's Special Education Resolution (General Funds). These services include administration/supervision, assistive technology, audiology, augmentative communication, autism services, braillists, interpreters, and nursing.
Advice and policy direction for Region III is provided by a statutorily required Regional Advisory Council (RAC). The RAC includes 7-11 members, which represent each county in the region and each of these categories
superintendent of ESD or LEA (local education agency or school district),
special education supervisor or teacher of an ESD or school district,
supervisor or provider of EI or ECSE services,
director on an ESD or LEA board,
an individual with a disability or parent of an eligible child,
and a regular education teacher or administrator.
*Early Intervention/Early Childhood Special Education (for children birth to three years and three to five years of age, respectively)