SOESD / Technology & Media Services / Media Materials Library / Local Resources / Klamath Bird Observatory

Klamath Bird Observatory



Songbirds, Science and Schools

Age Group Served: Kindergarten through eighth grade.

Type of Program: Classroom visit followed by related outdoor field trip to Klamath Bird Observatory(KBO) bird banding station.

Subjects Addressed: Program highlights birds, nature, science inquiry and conservation. Students participate in a fun, hands on activity in the classroom that ties into the field trip where students collect data along side KBO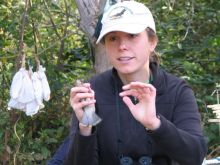 Ashley Dayer, Outreach and Education Director, teaches a field component for Songbirds, Science, and Schools.


biologists!

Which Categories? Natural History Science

Seasons/Months Program is Available: End of September to the beginning of November and April through May.

Availability of Program: Program is available on a first-come first-served basis until all available field trip dates are filled (approximately 12 field trip dates for 2 classes per field trip)

Cost: Cost for classroom and field trip is $3 per student.

Geographic Area Served: Jackson County

Program Website Link: www.klamathbird.org/

Contact Information: Ashley Dayer, Education and Outreach Director, and
Annie Kilby, Youth Education Projects Lead, can be reached at (541) 282 0866 ext 3. To schedule a classroom and field trip, email school@klamathbird.org









Klamath Bird ObservatoryState Standards.pdf
(27.2KB)
Songbirds, Science, and Schools lessons are aligned with Oregon Science Standards for 3rd, 5th and 8th grade benchmarks for Life Sciences and Scientific Inquiry as well as NAAEE guidelines for excellence.


The above document(s) are Adobe® Acrobat® PDF files and may be viewed using the free Adobe® Acrobat® Reader™. Most newer web browsers already contain the Adobe® Acrobat® Reader™ plug-in. However, if you need it, click on the "Get Acrobat® Reader™" icon to download it now.