by Chris Howard and Emily Coleman SOESD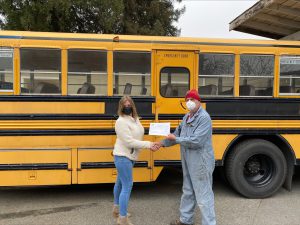 "That is a huge bus!" says Shawn Wonnacott, Trades Career Coach at the Rogue Valley Trades Training Center (Equus Workforce Solutions), as he and Tabitha Carlson watch as the bus driver maneuvers his way down 5th St, around the block, and into the back alley.  "I sure hope it will fit in our yard."
The 40-foot bus is one of many donated school buses in Jackson and Josephine Counties that will undergo a complete transformation into a home-on-wheels for a local family in need.  Ashland School District 5 Transportation Director Stacey Cheshire has been instrumental in providing the buses to project partners.
The Bus Project was developed through the collaboration of community partners and industry to ignite student interest in the construction trades by providing hands-on opportunities that build awareness, encourage exploration, and engage through real-world experiences that dovetail with regional pathways in high-wage, high demand fields.
Shawn first decided to get involved with the Bus Project after attending a job fair at South Medford High School.  After attending multiple meetings, it was easy for him to see the opportunity and benefits.  Located in Grants Pass, The Rogue Valley Training Center receives a lot of local support from multiple partners including Project Youth Plus, who sends many students his way.  Shawn will be reaching out to local industry businesses in Grants Pass with hopes to get donations of materials.
The program at the Rogue Valley Training Center offers many modalities of the construction trades and prepares students for the exams and certifications.  "Everybody wants to be and Electrician," says Shawn, "That is the most competitive trade and requires the most skillset.  We do prepare our students to go in that direction, but they have to score platinum across the board on their NCRC.  That is the minimum requirement to get into the Union."
When the next cohort of students start on the 29th of November, they will have the task of gutting the interior of the bus in preparation for the remodel.  This will require, construction, fabrication, plumbing, electrical and HVAC skills all taught at the training center.  Utilizing a pre-designed layout, the students will have the opportunity to "Earn while you learn," while providing a much-needed service for homeless families.  According to Shawn Wonnacott, this project is going to take 4 to 5, eight-week sessions to complete.  "We are super excited!" says Shawn.
Students can enter the program at age 17 but cannot step foot on a Jobsite until they are 18 due to Oregon labor laws however, this program allows for students of all ages to explore the different modalities and learn the skillsets to advance in their chosen trade.
More exciting news and information about this and other IGNITE projects are coming soon!  Please follow us on Facebook at: https://www.facebook.com/groups/soesd.ignite, or visit our website at: https://www.soesd.k12.or.us/ignite/, to stay up to date on this and other IGNITE projects.