Pinehurst School renovated their library over the summer, thanks to a grant from the Oregon Department of Education (ODE), removing hundreds of shabby and outdated books.The school is now adding many brand-new and diverse  titles to the shelves and cataloging the collection using the newly implemented Destiny library software.
"We are so grateful for the opportunity to give our library a sorely needed makeover," said District Administrator Deirdre Barber. "In a few short months, the library has gone from an unused room to a place where children are choosing and reading books! It's made everyone at Pinehurst so happy."
The school received one of the 86 ESSER III grants to school districts, $10,000 for revitalizing their
school library. The grants were part of the pandemic recovery funds and could be spent on books, staff time to process them, and updated furnishing. 
With advice from one of SOESD's consulting librarians, Miranda Doyle, staff at the tiny rural school first went through the collection to weed books that were no longer appealing or useful. Many books were decades old and in poor condition, with information that was out of date.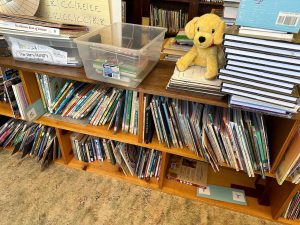 Removing these books to leave the ones of current interest made a huge difference. Instead of packed but unappealing shelves, the library now has more space to display book covers and for browsing the much improved collection. Students and staff will also be able to use the Destiny catalog to look up and locate books, and to borrow them.
The bulk of the grant goes to ordering new books, from award winners to popular series titles. Picture books, beginning readers, graphic novels and award-winning fiction are all part of the revitalization. The library is now more accessible, students will be more engaged with reading, and the collection reflects the students and the wider community.
Instructional Assistant Desiree Elder also praised the changes to the library.. "Our newly renovated and updated library is not just a room with books: it's a gateway to knowledge, a haven for imagination, and a treasure trove of endless possibilities for our community children."  
For more information on the grants, see  School Library Revitalization Grant webpage.