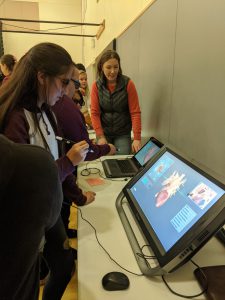 Excerpt from White Mountain Middle School's Newsletter
Wow!!! What an amazing winter family night!! We had 226 people total in attendance. They had a great time participating in our eight different STEAM stations around the school.
STEAM Stations included activities such as Tower Challenge, zSpace, Circus Balancers, AVID Presentations, Math Bingo, Cup Stacking, Water Ecosystem and Balloon Pop.
Gracias!!
A very special thank you to the staff members that helped plan and run the stations: Michaela, Daniel, Landon, Darlene, Kim, Ryan and Miriam. Also thank you to Jason Clark and Kevin Campbell for supporting our event and the Southern Oregon ESD for their participation.